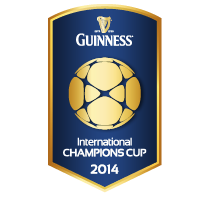 I usually don't post my thoughts and opinions of coverage, but with this being the first real test for FOX's soccer coverage, I thought I'd give my thoughts and ratings on the first weekend of overage.
BROADCASTERS: B-
Let's be honest here. FOX is going to find it difficult to beat the quality and chemistry the weekly broadcast teams at ESPN developed. I really liked the broadcast team of JP Dellacamera and Brian McBride. McBride was a little slow at the start, but by the water break I thought he had gained his groove and did a good job expounding on why plays were a penalty and why certain passes were made. Sure, he was rough around the edges, but I believe this was his first time acting as an analyst.
JP Dellacamera meanwhile doesn't provide the silence that most soccer broadcasters do. However for casual US fans, his style tends to be a plus as it helps the viewers understand certain terms and learn more about the sport, thereby making it more enjoyable as time goes along.
Mark Rogondino and Cobi Jones knew when to remain silent and didn't place a whole lot of emphasis in their commentary unless it was a dynamic play.
The sideline reporter is a little awkward outside of the pre and post games for these matches. It's really an unnecessary voice for the most part. Yet two to three times each match the play-by-play man was forced to throw it down to the sidelines to report on a story that took place earlier in the week, nothing that was going on in the game itself.
As for the worst broadcast team, as good as John Strong is when calling MLS matches, he really seemed to be forcing himself to ask questions that he thought Warren Barton might answer. And Barton frankly took too many pauses in his analysis and focused mostly on telling stories instead of describing the action. Do we really think saying "That's a good point" or "we'll see him probably score as well" is good analysis?
STUDIO SHOW: C-
Okay. Fox had a good studio in Rob King and Eric Wynalda. However FOX didn't really give them enough time to do any type of explaining. We saw them for the first 5 minutes introducing the lineups for the upcoming match, and we saw them at Halftime. Every time Wynalda actually shared some good points, he was quickly cut off by Barton, who didn't add any worthwhile contribution and really slowed down the broadcast. If you actually expanded it to half an hour and added a second decent analyst, then it could easily challenge ESPN's studio team during the World Cup.
Fox also loses points here in that every network, outside of FOX, now joins the match as they are marching out of the stadium. They let us see the coin toss and hear the anthems. What we got from Fox instead was the opening lineups. Give yourselves the needed 30 minutes before each match Fox. You do it with UEFA Champions. There is no reason you shouldn't be doing it with the rest of your coverage, even if it is the preseason.
CAMERA ANGLES: D-
We only saw closeups on throw-ins and corner kicks. And even when we did get closeups, we still would eventually go back to a camera that frankly looked like it was at the top of the stadium. Yes, I realize that cameras from the bleachers are usually how soccer matches are shown. However most companies use more than 1 camera. Heck, even a BYUtv broadcast of soccer seemed more professional to me than most of FOX's camera angles.
STREAMING COVERAGE: C
Now I'm sure many people would wonder why I'm giving them such a low score here. I'm giving them a low score for two reasons. First off they were streaming on both Fox Sports Go and Fox Soccer 2Go. I actually thought this was a good idea as some fans, like myself, can't access Fox Sports Go since we don't have a "verified account supplement." However Fox loses two grades in my book for using two separate feeds for the broadcast. The smart thing would have been to save money and use their own feed for both sets. Instead they used the International Feed for Fox Soccer 2Go. While most of these announcers are recognized for their work in the English Premier League and the UEFA Champions Cup, it is foolish to spend extra money on a second streaming system using completely different announcers than using your own broadcast team. Then there's the entire archive issue. Fox Sports Go doesn't have a replay/ archive section. This really forces you to have to watch it live or not at all. I don't like those options.
The second reason I give them a C has to do with moving the start of the Real Madrid/ Inter Milan match from Fox Sports 2 to Fox Sports Go. I don't mind the move, but you should have at least placed it on Fox Soccer Plus. Anyone who tried to watch it on TV didn't get to see the starting lineups. We didn't get to hear any information about the clubs beforehand. Instead we got the first round of the UFC simulcast on FOX and Fox Sports 2, as FOX joined in on the "Tale of the Tape." Bad move Fox. Very bad move indeed.
OVERALL: C-
Fox has proven they can do a better broadcast with the NFL and NCAA events. What they haven't done here though is actually strive to learn from what ESPN and NBCSN have done for soccer coverage in the US. Continuing to broadcast like this will end up costing the game more viewers than it will help.